"Heartless is a tightly-wound and compact gem, with strong performances, a strong sense of tone and plenty of wonderfully bloody gore effects." -- Michael Klug, Horror Freak News, Feb 2, 2018
"… an intelligently-executed, visually stunning piece of horror…"
"(Heartless) would most certainly be applauded by Poe himself and fans of intelligent horror as a whole." – Wess Haubrich, The 405, Mar 17, 2018
On Heartless: "From start to finish this film is brutal, bloody and an absolute blast." 9/10
"...this film is filled with blood-drenched gore, a bit of perfectly timed humor and full on bat s*** crazy." -- Andrew Hass, Superficial Gallery. June 8, 2018
"...a clever way to bring Poe's Gothic horror into the 21st century.
"Gone is the shadowy stalking of Edgar Allen Poe' s original story, replaced instead by fluorescent office lights which capture the crimes so much more vividly." - Erin Grant, Fear Forever June 23, 2018
""Heartless" is an entertaining descent into madness."
"Hats off to Snyder, who deserves five out of five bloody, beating hearts for her ferocious performance as the deranged Shelby." "Heartless is a near heart attack of intensity that will have you hearing the beat of your own heart pounding in your ears." "Russell FX provides plenty of effective, gory FX that'll make you cringe with delight." "As a short-film, Heartless is an entertaining, gory sprint through the mind of a madwoman that will have you laughing and screaming from beginning to end." -- Matt Konopka, Killer Horror Critic from Outer Space Aug 6, 2018
"… one of the best short horror films we have seen."
"Heartless is...one of the best short horror films we have seen. It breaks through the barriers of what is possible to accomplish in a short film, and really goes the extra mile to set an example of a film that filmmakers should all strive to make." -- Midnight Horror Show, Feb 10, 2018
"[Kevin's] first time helming a project...he nailed it!"
On Heartless: "Director Kevin Sluder does a solid job of showcasing his ideas and his story-telling prowess..." -- John's Horror Corner, Mar 25, 2018
"It's a clever, modern-day adaptation of a classic story with a strong female lead and a punk rock attitude."
"Heartless as a whole is tight, coherent, and of solid production quality that is both socially relevant and aesthetically pleasing. And really, really fun." -- Remy Cashman, HorrorBuzz.com, May 17, 2018

"'Heartless' is a fast-paced thriller with all the blood and guts you could want."
"the gore and the kills...were quick, they were brutal, and there was plenty of blood for all you gore whores out there." -- Samisbloggin, Real Horror Show, June 20, 2018

[Heartless] "...captures the spirit of the original Poe tale."
"The cinematography is exceptional, as are the makeup and the effects. Snyder's Shelby character displays the lovable vulnerability of a Goldie Hawn or a Drew Barrymore but is wholly capable of going Kathy Bates or Christian Bale on your ass if you press the wrong button. Snyder's portrayal along with the expert camera work, effects, and edits make Heartless fun to watch." -- Isaac Thorne, The Horrorcist Aug 12, 2018
"… a gruesome good time."
On Heartless: "… great independent filmmaking, with just the right amount of blood, gore, and body parts to please its viewers." "...This original adaptation...will entertain any fans of the genre who enjoy some good (and gory) twists and turns." -- Abigail Braman, Nightmarish Conjurings, Feb 8, 2018
"Heartless is a relevant short film with classic inspiration that many viewers will enjoy."
"… a dark and funny horror short highlighting what it is like for a woman in a male-dominated business world." -- Molly Henry, The Blogging Banshee, Feb 16, 2018
"Heartless is gore drenched wish fulfillment...HIGHLY RECOMMENDED."
"...one of the most consistently engaging short horror films we've seen." "...relentless pacing in gore -soaked merriment." -- Ash Hamilton, Horror-Fix.com, May 28, 2018
"...the FX team really had a chance to go to town with some messy gore."
On Heartless: "...a performance from Stacy Snyder that flows from moments of manic reaction that dissolve into her reveling in malevolent contentment." -- Bryan Christopher, Rue Morgue, May 8, 2018
"[Heartless] is a solid debut from Sluder, who has managed to deliver a brutal and thrilling horror/dark-comedy..." 5 stars
"Shelby gives Christian Bale's Patrick Bateman a run for his money when she snaps, and it makes for bloody magnificent viewing." "Snyder absolutely nails her performance as she completely owns the screen and I found myself unable to take my eyes off her..." "I really couldn't write this review and not praise Josh and Sierra Russell for their incredible blood and gore effects. Their work on this short is easily better than some feature-length films I've seen and it really elevates this short to a whole other level." "The whole thing is incredibly well executed, from the makeup to the editing, and Sulder's superb writing and direction." "I would happily sit and watch a feature-length film exploring the days leading up to this presentation and Shelby's brewing outburst." Tom Sheffield, Jumpcut Online, Aug 4, 2018
"… this retelling of Poe's Tell Tale Heart left me thirsty for more."
On Heartless: "…the kind of spectacle we all find appealing after a long day at the office or slaughterhouse." "Director Kevin Sluder sure knows how to shoot a good bloodletting. Lots of screaming, gouging and slashing..." -- Paul Parcellin, Film Threat, Apr 28, 2018
"... a giddily gruesome updating of Edgar Allan Poe's "The Tell-Tale Heart."
On Heartless: "Sluder has crafted this Poe retelling with grisly set pieces, wicked attack sequences, and some darkly comic moments. Though the basis for Heartless is a well-known story, this version of it feels fresh and holds plenty of unpredictable jolts" -- Joseph Perry, Ghasthly Grinning, May 7, 2018
"[Heartless] is an intense twelve minutes that left this horror fan with nothing but a smile of satisfaction and awe." 4.5 Stars
"...packed full with horror, madness, emotion, stereotypes and the poisonous power of guilt." -- The Countess of the Crypt, The Horror Report, May 28, 2018
On Heartless: "The direction is phenomenal by Sluder..."
" I recommend that you watch this and find a way to see it as it is a very entertaining 12 minute piece!" -- Grant Duval, Creepy Kingdom, June 6, 2018
On Heartless: "...this short will grab you and not let go." 5 stars
"Starring the unfathomably good Stacy Snyder" "The tension is there in aplomb, the horror drips from it, and there's even some lighter, more humorous nods. The supporting cast is fabulous (although Snyder steals every scene). We can't wait to see more from the team - Sunshine Boy Productions." -- Mark Taylor, Dead Celluloid UK Aug 13, 2018
Ready Steady Cut Interview -- Daniel Hart, Mar 27, 2018
Kevin and Jennifer discuss women and diversity in film, working together as a married couple, challenges of a directorial debut, Edgar Allan Poe, and strong female leads
The Horror Report Interview -- the Countess of the Crypt, June 26, 2018
Kevin and Jen chat with the Countess of the Crypt about "Heartless," the festival circuit and working together on films.
Popcorn Horror Interview -- Cara Clark, Feb 18, 2018
EP/Writer/Dir. Kevin Sluder discusses the challenge of adapting Edgar Allan Poe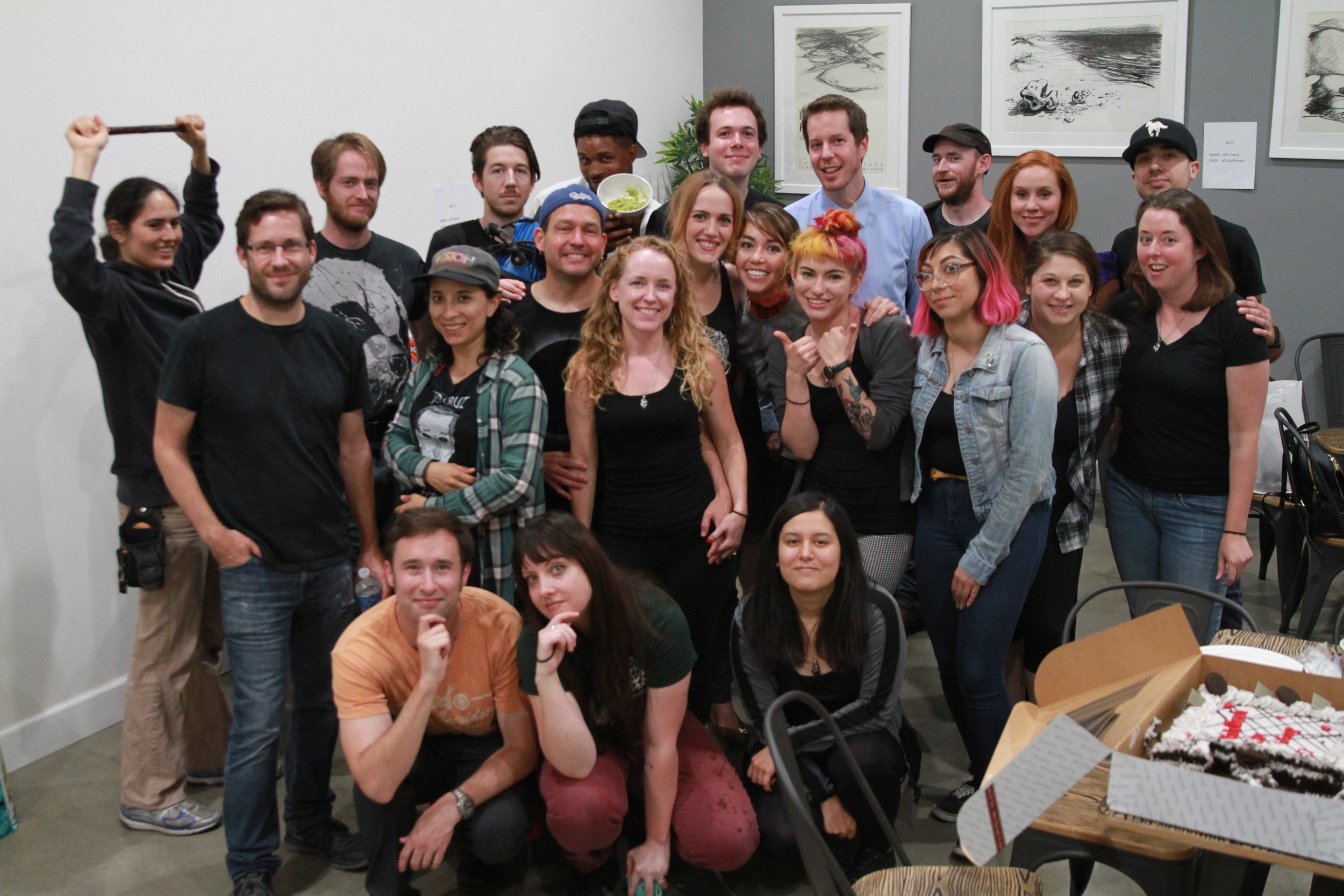 City Pulse Interview on Capital City FF -- Skylar Ashley, April 12, 2018
Kevin Sluder on the camaraderie built on an independant film set and the way film festivals help spread the word for indie filmmakers
Follow Us @sunshineboyprod